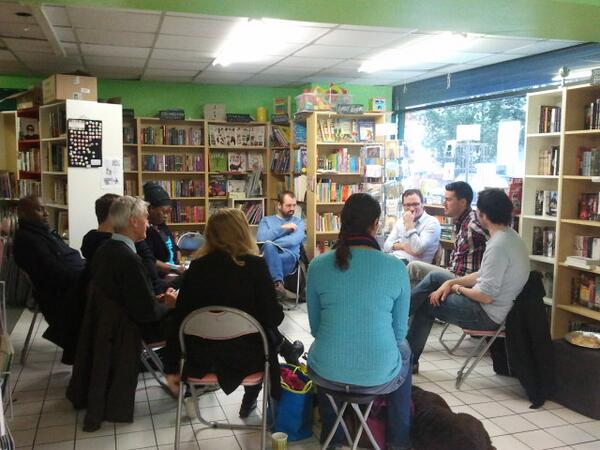 I recently was lucky enough to attend a workshop on How to Write Kids' Fiction led by Joe Craig and Anthony McGowan as part of the Wood Green Literary Festival organised by the Big Green Bookshop. We were also fortunate enough to have Marianne Levy and Allan Boroughs (whose first book will be out next year) in the audience so there was a very good ratio of the published and would be published.
It was a very refreshing experience hearing from two writers of very different fiction. What came across was their thorough understanding of the genre they work in and enthusiasm for each other's work as well as those trying to break through. What was of particular interest to me were their theories concerning structuring a narrative with an interesting protagonist – I guess it's a hark back to the days when I studied Literature.
One of the points from Anthony McGowan that particularly intrigued me was the concept that the main character needs to be an orphan in some way. This is because parents or responsible adults would stop the protagonist from doing what they need to do. The orphan becomes a wanderer on their journey, receiving gifts from helpers on route. Eventually, there is a climatic battle before the end resulting in the orphan becoming a martyr somehow (my notes on this last bit aren't great).
It struck me, that this is essentially what I did with my character Billy in my first book without realising it and got me wondering how many different ways a character can be an orphan. Here's my list so far:
The character is an actual orphan (BFG;Harry Potter; A Series of Unfortunate Events;Walkabout)
The character is emotionally isolated from parents (Matilda;Goodnight Mr Tom; I Will Call It Georgie's Blues)
The parent becomes lost/absent (Pippi Longstocking; Nim's Island;Famous Five books)
The child is isolated due to a disagreement (The London Eye Mystery)
The child is isolated due to a secret (The Borrowers; The Magic Finger; The Turbulent Term of Tyke Tyler)
The child is isolated due to a physical/mental condition (Secret Garden; The Curious Incident of the Dog in the Nightime; Henry Tumour)
The child is lost 

The child is economically lost (Charlie & the Chocolate Factory)
The child is isolated due to social mores
The child is isolated due to a need to enact a rescue or go on a journey (Lion, Witch & Wardrobe; The Ice Palace)
There are probably many more but I can't think of them for the moment or of examples to go with a couple of my ideas. Perhaps you could suggest some.
I did some background reading on the orphan concept using Wikipedia  and a study by Kimball . If anyone can suggest a source for a more contemporary take on this, I would be grateful.
Cheers